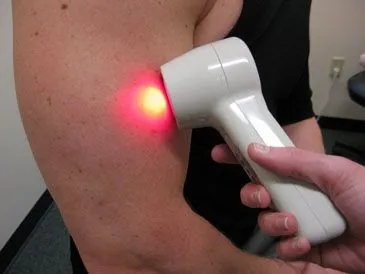 Revolutionary SUPER PULSED LASER Therapy
At Cedar Chiropractic and Sports, serving Hopkinton, MA, and the nearby region, Dr. Binh Nguyen and his team offer various treatments to help with healing and pain management. One of these is cold laser treatment. Let's discuss how it works to see if it could be right for you.
General Information
With cold laser therapy, our practitioner will use an applicator that emits low-intensity laser energy to optimize healing. Unlike lasers for hair removal, retinal detachment repair, and tumor destruction, the light energy isn't intense enough to heat the tissue.
For deeper tissue, our practitioner will use wavelengths between 780 and 950 nanometers (nm). Our chiropractor will use wavelengths between 600 and 700 nm for superficial tissue.
Our Hopkinton, MA, chiropractor will aim the applicator at the targeted area. It will emit light energy that the body absorbs. The light damages the cells due to a reaction it triggers. Your body then sends the resources the tissue needs to repair itself. As a result, the degenerative, diseased, or damaged tissue will heal.
To give you an idea of how cold laser treatment compares to hot laser treatment, think about this: the average wavelengths used for laser hair removal usually range between 700 and 1064 mn.
What We Use Cold Laser Treatments For
We may recommend this treatment to help ease inflammation or address pain from fibromyalgia. Our practitioner might recommend this treatment if you have a minor injury, such as the following:
Sprain
Neck pain
Lower back pain
Muscle strain
Tendinitis
Safety of Cold Laser Therapy
Fortunately, there isn't any downtime after this treatment. Therefore, you can resume your usual activities immediately after receiving it.
As a rule, cold laser therapy is safe for a majority of patients. Especially since it doesn't heat the skin, you shouldn't experience any pain or discomfort during the procedure. Typically, you won't even have any side effects afterward. Some people have pain and skin color changes at the site, but these tend to be temporary. This makes it much safer than conventional treatments for pain relief, such as medications known to cause a range of side effects, including addiction, dizziness, and nausea.
Some people shouldn't get cold laser therapy, though, such as those who have certain types of cancer and pregnant women.
Cold laser therapy might be an option for some people for pain relief. Dr. Nguyen of Cedar Chiropractic and Sports in Hopkinton, MA, can determine if it's right for you after a comprehensive evaluation.
If you'd like to try this treatment for your pain, contact us today at 508-435-8182.
---
Cold Laser Therapy is a treatment whereby a cold laser is utilized to treat chronic & acute pain. Cold laser therapy is used for persons suffering from back & neck pain, musculoskeletal pain, joint pain associated with arthritis, fibromyalgia, tendonitis, busiitis, carpal tunnel, neuropathy, achilles tendon pain, migrane headaches, sprain and strains or other associated pains. Cold laser therapy also treat conditions such as TMJ, reflex sympathetic dystrophy (RSD) and other inflammatory and scarring conditions.
The goal of laser therapy is to deliver light enery unit, in the form of photons, to damaged cells. Photons absorbed by the cells through laser therapy stimulate the mitochondria to accelerate production of ATP. This biochemical increase in cell energy is used to help transform cells from a state of illness to a stable, healthy state.
Numerous randomized double blind clinical trails have showed efficacy of cold laser therapy on various health conditions. An 88% positive effect was demonstrated in studies done on the efficacy of cold laser therapy in relieving pain caused by arthritis of small and medium joints. The clinical study involved 140 participants. Over 4,000 studies have been conducted worldwide to validate the effectiveness of laser therapy.
Our office utilized Multi- Radiance Technology (TerraQuant Laser) which excels where mose laser devices fall short. Multi Radiance Medical Super Pulsed Lasers deliver higher peak power with maintaing the highest degree of safety of any therapeutic laser. Multi Radiance devices are more effective in delivering photons to deep tissues compared to Class 1-3 continuous and modulated laser. Unlike Class IV continuous lasers, Multi Radiance devices eliminate the risk of theraml damage to a tissue.
Laser Therapy is a Handheld, noninvasive, light-emitting medical device which is used over different areas of the body. It provides an unmatched advantage in the treatment of conditions such as:

- Acute, sub-acute & chronic pain
- Back pain
- Bursitis
- Carpal tunnel symptoms / Tarsal tunnel symptoms
- Arthritis pain
- Fibromyalgia
- Ligaments sprains
- Tendonitis
- Tennis elbow
- Soft tissue injuries
- Muscle strain
- Athletic Injuries

- Knee and Foot Pain

- Shoulder Injury

- Muscle Spasm

- Relief of Muscle and Joint Pain

- Relief of Stiffness, the Promotion of Muscle Relaxation, and Cell Restoration

- Wound Management, Including Skin Ulcers, Pressure Sores and Burns

- Soft Tissue Injuries, Including Sprains and Strains, Tendonitis and Haematomas

- Joint Disorders and Conditions, Including Arthritis, and Tenosynovitis

- Chronic pain, including Trigeminal Neuralgia and Chronic Neck pain
Benefits to patients utlitzing TerraQuant Multi Radiance Technology :
- Relieves pain without potentially harmful drugs
- Safe & non-invasive
- Side effect free
- Pain free treatment
- Expedites faster recovery
- Increases joint flexibility
- Deeper laser energy penetration than Class IV laser
Here at Cedar Chiropractic & Sports, we are always looking for ways to improve the care we provide by utilizing modern technologies like class 4 laser therapy. While using a class 4 laser for therapy is not new (it was cleared by the FDA in 2003), it is something that many of our patients have never heard of. You'll learn why we use class 4 laser therapy, what it's used to treat, the results you can expect, and how much it costs.
What is Class 4 Laser Therapy?
Class 4 laser therapy may sound futuristic but it has become a standard of care for many musculoskeletal injuries. Laser therapy uses specific wavelengths of light (red and near-infrared) to create therapeutic effects. The light that is transmitted via the laser helps stimulate certain processes within the body that help provide relief to symptoms including pain, swelling, and limited range of motion.
There are different classes of lasers like the Class 3 laser which is a cold laser whereas the Class 4 laser produces heat. We decided to purchase a Class 4 laser because we are the team chiropractor for the Worcester Wildcats and that laser is a part of their treatment protocol. It has been a staple for the Wildcats and now we're able to offer this specialized treatment to all of our patients so they can take advantage of the wide variety of Class 4 laser therapy benefits.
How does Class 4 Laser Therapy Work?
The wavelength of the laser used in Class 4 laser therapy penetrates deeper and more efficiently than the Class 3 laser allowing it to pass energy to the nerve, muscle, ligament, and tendon tissue in a short amount of time. In fact, most sessions range from 2-6 minutes which means we can treat injured tissue in multiple areas in a single session thus improving your results.
Class 4 laser therapy stimulates the production of ATP (adenosine triphosphate) which drives many of the processes within our cells. This increased production of ATP helps speed up the healing process within cells. As a result of class IV laser it helps to increase ATP production hence the patient experiences an improvement of symptoms, including reduced pain, swelling, and range of motion and of course, the heat from the laser is soothing as well.
Class 4 Laser Therapy Benefits
The benefits of class 4 laser therapy include reduced pain and swelling as well as improved range of motion but a class 4 laser has some very interesting effects that we don't notice as obviously. A class 4 laser increases tissue regeneration which is why you heal faster but it also accelerates soft tissue and bone repair. This kind of laser therapy can also improve nerve regeneration & function as well as impact your cells to increase cell metabolism, enzymatic responses, collagen production, and promote angiogenesis (the creation of new blood vessels). So yes, you walk away from class 4 laser therapy feeling better but the therapy continues to work on the cellular level to improve your musculoskeletal health after you leave the office.
We use class 4 laser therapy on a range of issues including chronic knee pain or arthritis, chronic Achilles tendonitis, elbow pain or tendonitis in the elbow, and chronic wrist pain. We are able to use the class 4 laser on a wide range of injury sites and extremities to provide relief to our patients.
Now you might be wondering what it feels like to get class 4 laser therapy. We find that many patients think that laser therapy will hurt and they're pleasantly surprised to learn that they will feel some soothing warmth in the area we're treating but certainly no pain. Class 4 lasers provide pain-free relief to many of our patients and can also be used in conjunction with other treatments like Graston Technique and Active Release Technique.
How Much Does Class 4 Laser Therapy Cost?
We take most health insurance at our office but most insurance companies class laser therapy as "experimental" even though it's widely used and accepted among medical doctors, chiropractors, and veterinarians. Unfortunately, that "experimental" classification means most insurance companies will refuse to pay for it.
In our office, a single class 4 laser therapy treatment is $60 for treatment time ranging from 5 minutes to 15 minutes pending on the conditions. We try to keep this treatment as affordable as possible because we know how much it helps our patients and we don't want the "experimental" status to prevent them from being able to get access to this treatment.
Are you interested in finding out if class 4 laser therapy right for you? Contact our office today to schedule a consultation to see if Cold Laser Class IV is right for you.
MEDRAY MD30 - 30 Watt Dual Wave Class IV Laser
Our office has the original MEDRAY MDC30 Class IV Laser which is a Top Tier Class IV Laser for Physical Medicine and Sports Medicine. The MEDRAY laser is compact and very powerful of 30 Watts of power which supports rapid PAIN RELIEF. A full featured Class 4 laser with 30 Watts of dual wavelength power and allows easy selection of all necessary variables such as: body size, skin color, power, any combo of 810 wavelength and 980 wavelength, continuous or pulsed, use the preset medical protocols. Find out how our top of the line Class IV laser can help you today.